BINOCULAR LOUPES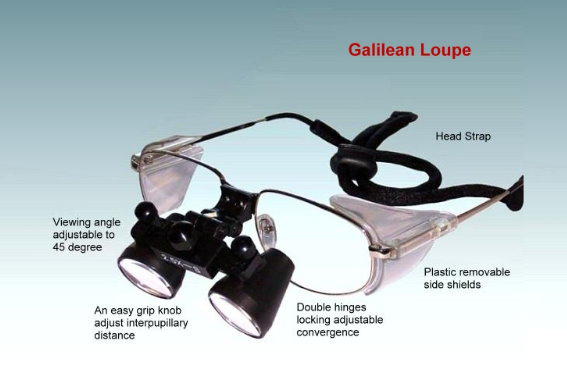 These Loupes are perfect optical system with advanced high resolution technology design. It provides a sharp clear image from edge to edge, better visualization, reduced eyestrain, enhanced field. The loupe lenses were designed exclusive coating technology that reduces most of the light reflection, allowing light through the loupe, provides the brightest image possible. The design allows the user to make various adjustments to optimize the view. The hinge of the loupe make it more easy to move the loupe out of the field of view, and individual left and right PD controls allow for precise locking adjustment and alignment of the optics.
These Loupes are designed specifically for Dental hygienist and Dental assistants. It is available in 2.0X, 2.5X, and 3.5X magnification in a range of working distances. These loupes are available in standard Metal black frame, Titanium frame or Plastic safety goggles and Clip-on style.
Galilean Loupe
Prismatic Loupe
Code
Mag.
Working
Distance
Field
of View
Depth
of View
Adjustable
angle
3800-2S [1][2]
2.0X
330 mm
110 mm
125 - 205 mm
45°
3800-2R
2.0X
380 mm
110 mm
125 - 205 mm
45°
3800-2L
2.0X
430 mm
110 mm
125 - 205 mm
45°
3800-2XL [2]
2.0X
480 mm
110 mm
125 - 205 mm
45°
3800-25S
2.5X
330 mm
65 mm
150 - 200 mm
45°
3800-25R
2.5X
380 mm
65 mm
150 - 200 mm
45°
3800-25L
2.5X
430 mm
70 mm
150 - 200 mm
45°
3800-25XL [2]
2.5X
480 mm
70 mm
150 - 200 mm
45°
3800-35S
3.5X
330 mm
50 mm
100 - 200 mm

45°
3800-35R
3.5X
380 mm
55 mm
100 - 175 mm
45°
3800-35L [2]
3.5X
430 mm
55 mm
100 - 175 mm
45°
3800-TS
Titanium frame (for men only)
[1] with side protections.
[2] only available on request.
NB. All models can be ordered with titanium frame (silver colour).
Standard Metal Frame
Optional frame:
Titanium Silver Frame
---
PEAK HEAD LUPE
The Peak Head Lupe is an extremely lightweight head-lupe and permits bright, wide and 3-Dimensional views by two angle lenses suitable for eyes.
A person wearing glasses can use this lupe with their glasses on. This lupe is easily attached/detached by a magic-tape headband, allowing users to use both their hands freely.
This lupe, equipped with a magnifying power of 2.2X, can be used for even more precise inspection by adding another pair of enclosed angle lenses which provide a magnifying power of 3.3X. It is possible to have variation from 4.1X to 5.2X, besides having 2.2X and 3.3X, moving in front of your eye a third mono-ocular lens already mounted on the Lupe.
Superior functions of this loupe are best suited for such operations as professional precision processing. photoengraving, photography, and this lupe also serves in hobbies of model assembling, engraving and precision drawings. Use alcohol to clean lenses. Other chemicals will whiten the lenses because the lenses are made of resin.
SPECIFICATIONS
| | |
| --- | --- |
| Code | 2035-II |
| Magnification | 2.2X, 3.3X, 4.1X, 5.2X |
| Size | 190 x 70 x 258 mm |
| Weight | 118 g |