STAND EXPLORER
| | | |
| --- | --- | --- |
| | | |
| Stand Explorer + VCR | SE-VCR | code SE-VCR 10274 |
| Stand Explorer + VCR-ZLite | SE-VCR-ZLite | code SE-VCR 10275 |
| Stand Explorer + ZOOM Objective | SE-ZOOM | code SE-ZOOM 10277 |
Reliability, modularity, precision in the measurements, wide range of accessories and low price: these are the characteristics concerning the new videomicroscopes SE series.
These new devices have been designed appositely for medium and small companies, which wish to be in possess of a good instrument for the production quality check, with the possibility to get and archive files containing the tries with pictures, measurements and comments.
The SE series is composed by three models, two of which, SE-VCR and SE-VCR-ZLite, have interchangeable objectives with magnetic mount, with a magnification range included between 10x and 2350x (referring to a 14" monitor) and a field of view from 24x18 to 0,12x0,09mm; the third model, SE-ZOOM has a zoom objective and a "jerky magnification selection", to ensure the repeatability of the measurements.
The SE-VCR-ZLite model, differs from the SE-VCR model, because it's equipped with a further system for the checking and measuration of the depths (small fissures, cracks, etc.) "Z" axe with a precision 0,5-1 hundredth; each model is provided of a movable mechanical stage x-y with a range of movement of 75x50mm, where a sensor of movement placed on the y axis through a display, guarantees very accurate measurements (0,03mm on distances of 75mm).
With this kind of mechanical stage and the magnification of the image on a monitor, everyone could easily point the beginning and the end of the distance to measure.
Common videomicroscopes aren't able to measure, with centesimal precision, distances higher than few millimeters, if they haven't at disposal telecentric objectives or any kind of other expensive accessory.
Two kinds of illuminations are mountable on any of these 3 models: diascopic and episcopic; the first is of the ultrabright led annular type, with luminous intensity variator; while the light of the second is diffused and offers nice results in the profiles' vision and measurement.
Since SE-VCR and SE-VCR-ZLite use their respective video headers of the well known VCR series, the whole range of their "precious" accessories is employable, sostaining our concept of "modularity" in the designing and in the manufacturing of working devices, which has always been the main characteristic of our company's philosophy.
These accessories allow to increase quitely the chance of use, so, for example, the use of a small auto-illuminating base will be enough to make them transportable and ready to measure wide and heavy, flat and curved surfaces just leaning the device on those surfaces.
The SE system in outfit includes also the connection to PC through external USB 2.0 interface, complete of software able to acquire high-quality images, make comparisons between the images acquired, make film segments, etc., while if you wish to make all the most common measurements, the control of the focusing (for accurate and ripetitive measurements), we have a dedicated software for the viewing and the measurement of objects.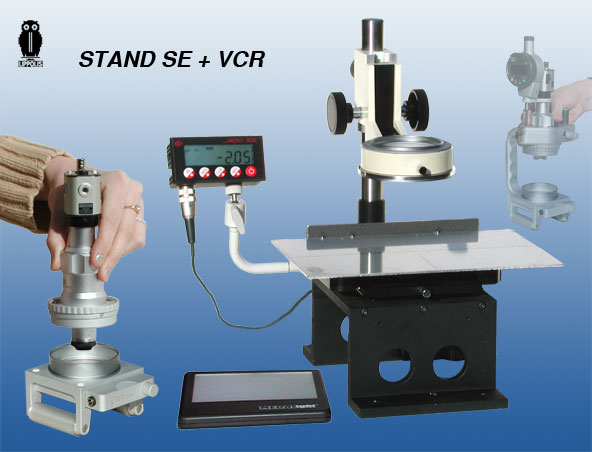 AVAILABLE OBJECTIVES FOR STAND-SE with Magnetic Mount
(Annular Light)
Code
Video
mag.
Field of view
Min. examineable cylinder diameter [mm]
SE-10

*

10X
24 x 18 mm
SE-15

*

15X
18.2 x 13.6 mm
SE-20

*

20X
15 x 11.8 mm
A-25
25X
11.0 x 8.7 mm
D-50
50X
5.5 x 4.2 mm
F-75
75X
3.6 x 2.7 mm
G-100
100X
2.7 x 2.0 mm
H-150
150X
1.8 x 1.4 mm
♦ 200-P
200X
1.3 x 0.98 mm
♦ 250-P
250X
1.0 x 0.75 mm
♦ 320-P
320X
0.85 x 0.64 mm
♦ 475-P
475X
0.55 x 0.42 mm
♦ 750-P
750X
0.35 x 0.26 mm
♦ 1100-P
1100X
0.25 x 0.19 mm
♦ 1500-P
1500X
0.16 x 0.12 mm
♦ 2350-P
2350X
0.12 x 0.09 mm

♦ Objectives that can also be used with coaxial light.
Escursion on the "Z" axis of the VCR = 23 mm.
Other objectives are available on request.



*

This objective is utilizable only with STAND-SE and JUMBO.

Note: It's possible to inspect cylinders with minimum diameter less than 115 mm using adequate supports as in the following examples.
HIGH DEFINITION AND LONG WORKING DISTANCE OBJECTIVES
(about 80 mm) to be used with the special illuminator code SPT OVT 000620
Objectives with magnetic mount
Magnifications with Microcamera 1/3" and 1/2"
Magnification
referred to a 14" monitor
Field of view
on any 4:3 monitor


CCD
1/3"
CCD
1/2"
CCD
1/3"
CCD
1/2"
LDH-10
10X
8X
25 x 18 mm
34 x 25 mm
LDH-15
16X
12X
17.5 x 12.5 mm
23 x 16.5 mm
LDH-50
50X
38X
5.5 x 4.2 mm
7 x 5.3 mm
LDH-100
100X
75X
2.7 x 2 mm
3.7 x 2.8 mm
LDH-200
215X
170X
1.2 x 0.9 mm
1.6 x 1.2 mm
LDH-300
290X
215X
1.0 x 0.7 mm
1.2 x 1 mm
LDH-400
425X
300X
0.6 x 0.5 mm
0.9 x 0.7 mm
LDH-500
550X
375X
0.5 x 0.35 mm
0.7 x 0.5 mm
The values reported on the tables could be lightly different (5-10%) due to the optical and mechanical different series.
SOFTWARE
| | | |
| --- | --- | --- |
| | | |
| Video View Light: Software for the vision of the images coming from a video source. | Video View Basic: Software for the vision and 2D measurement of the images coming from a video source. | Video View Pro: Measuring and control software for object through devices for video magnifications. |
ACCESSORIES
Cold light Arms
Light with two semi-rigid arms, high intensity light working at 12V and low consumption. Equipped with magnetic connection to be easily positioned.
Technical data:
Power: 12V; Absorption: 40 mA
Arms length: 37 mm; Weight: 130 g
code SPT OVT 000369
Magnetic Power Distributor
device with magnetic connection which allows to connect 2 x 12V devices
code SPT OVT 000293
Set CX light
complete of magnetic spacers and objective CX-200.
code SPT OVT 000462
Additional spacer to be used on stand SE-VCR and TDE with set for coaxial light of the VCR series.
code SPT OVT 000463
Spacer ring (height 43mm) for VCR body useful in a few cases when distancing more with the objective from the target is necessary
code SPT OVT 000396
Spacer ring (height 24 mm) for VCR body useful in a few cases when distancing more with the objective from the target is necessary.
code SPT OVT 000399





Magnetic Stand-Up
Couple of magnetic 90° angulars, they allow to keep perfectly lined up and perpendicular to the objective of the video system very thin or difficult to handle objects (i.e. cross sections of metal laminae, sheets of paper, plastic, etc).

Size: 25 x 25 x 15 mm
code SPT OVT 000489

Size: 50 x 50 x 15 mm
code SPT OVT 000490

Size: 70 x 70 x 75 mm
code SPT OVT 000491



Magnetic Mini-Chuck
This accessory is very useful when you want to inspect and to measure with video systems small tools like drills - cutters, etc. with diameters from 1,5 and 30 mm. The little chuck is equipped with dividing notches of 5° up to 360° and it can be manually turned for the inspection of the surfaces of the tools, if used with the Magnetic Stand-Up 70 and a viewer (like our SLIM 4x5") you will have at disposal a kit of extraordinary practicality for the control and measure of profiles in many applications.
code SPT OVT 000494
Couple of Prisms
Magnetic, made of metal, positionable in piles and matchable with other couples, useful to raise stand VCRs when you want to examine small three-dimensional objects.
code SPT OVT 000626
single prism:
code SPT OVT 000621
Vice with magnetic connections for XY stage
code SPT TDE 000220
LIGHTINGS
Cold Light Ring 24 - WD: 25-45
24 led magnetic illuminator for standard optics VCR series with the possibility to select 14 different angles of provenience of the light. Complete of luminous intensity regulation.
Working distance: 24-45 mm
code SPT OVT 000620
Cold Light Ring 24 - WD: 45-80
24 led magnetic illuminator for standard optics VCR series with the possibility to select 14 different angles of provenience of the light. Complete of luminous intensity regulation.
Working distance: 45-80 mm
code SPT OVT 000645
Cold Light Ring 24 - WD: 80-120
24 led magnetic illuminator for standard optics VCR series with the possibility to select 14 different angles of provenience of the light. Complete of luminous intensity regulation.
Working distance: 80-120 mm
code SPT OVT 000678
Cold Light Ring 24 - WD: 120-150
24 led magnetic illuminator for standard optics VCR series with the possibility to select 14 different angles of provenience of the light. Complete of luminous intensity regulation.
Working distance: 120-150 mm
code SPT OVT 000646
Cold Light Ring 24 - WD: 30-50
24 led magnetic illuminator for standard optics VCR series with the possibility to select 14 different angles of provenience of the light. Complete of luminous intensity regulation.
Working distance: 30-50 mm
To use with Stand CX
code SPT OVT 000647
Cold Light Ring 48 - WD: 80-120
48 led magnetic illuminator, complete of regulation of the luminous intensity.
Working distance: 80-120 mm
code SPT OVT 000622
Cold Light Ring 25-45
Powerful and compact led illuminator with magnetic mount and connection cable.
Working distance 25-45 mm
code SPT OVT 000566
Cold Light Ring 80-120
Powerful and compact led illuminator with magnetic mount and connection cable.
Working distance 80-120 mm
code SPT OVT 000625
Cold Light Ring 120-150
Powerful and compact led illuminator with magnetic mount and connection cable.
Working distance 120-150 mm
code SPT OVT 000679
Adjustable spacer ring
To regulate the working distance of the Cold Light Ring from 80-120mm to 25-45mm
(24 led illuminating rings)
code SPT OVT 000546
CX Light
coaxial light with magnetic mount and without objective.
code SPT OVT 000071
CX Ring 10
magnetic spacer ring of 10 mm to use with objectives of the VCR series and device with coaxial light, on the stand CX.
code SPT OVT 000072
CX Ring 14
magnetic spacer ring of 14 mm to use with objectives of the VCR series and device with coaxial light, on the stand CX.
code SPT OVT 000231
Extension connection (40mm) for objectives
code SPT OVT 000463

ZOOM Objective K1
Step
Magnification
Field of view
1
20X
12.7 x 9.5 mm
2
25X
11.2 x 8.4 mm
3
30X
9.2 x 6.9 mm
4
35X
7.4 x 5.5 mm
5
45X
5.9 x 4.4 mm
6
55X
4.8 x 3.6 mm
7
75X
3.6 x 2.6 mm
8
100X
2.7 x 2.0 mm
ZOOM Objective K2
Step
Magnification
Field of view
1
44X
6.5 x 4.9 mm
2
50X
5.4 x 4 mm
3
67X
4.1 x 3.1 mm
4
85X
3.2 x 2.4 mm
5
100X
2.6 x 1.9 mm
6
140X
2.1 x 1.6 mm
7
185X
1.6 x 1.1 mm
8
244X
1.2 x 0.9 mm
SLIDES
Translation table XY 150x50 mm
code SLI MAR 000206
Translation table XY 25x25 mm
code SLI MAR 000207

Translation table XY 50x50 mm
code SLI MAR 000205

Translation table XY 100x100 mm
code SLI MAR 000208
Digital micrometrical head 0.001 mm;
range 0-50 mm
code SPT LIN 000374
Centesimal micrometrical head 0.01 mm; range 25 mm
code SPT TES 000381
Miniaturized Translation table XY 10x10 mm
(Size: 120x120x16 mm; Weight: 430 g)
code SLI OVT 000438
Stand for micrometrical tables x-y
code SPT OVT 000553
Flat viewer (slim) to make measurements of profiles (5x4")
code 3709
As 3709, but with power supply
code 3709/A
The SMX-Y stand is provided with microshiftings manual slide (75-50 mm x-y) and the viewer SLIM 4x5" which, inserted in the suitable guide under the stand, allows to have on the monitor the profile of the objects for being to execute measurements.
code SPT OVT 000492