TRICO VISION
Videomicroscope for trichology (200X)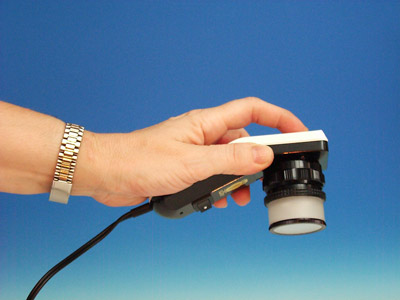 The Trico Vision is an instrument of good video-optical performance, very practical and handy intended for those who want to carefully inspect epidermal surfaces.
The Trico Vision has a video magnification of 200X with a field of view of 1.8 mm on screen (referred to a 14" monitor), a practical focus ring and an intense built-in cold light illumination.
At the base of the illuminating part it has a neutral optical glass to protect the quality lens that serves as a support base for the video system to obtain a perfect focus.
The system is produced in two versions: analogue "Trico Vision A" for direct connection to a monitor or TV (via scart) or digital "Trico Vision B" for connection to a PC or laptop thanks to the 1.3 Mpx USB camera.
Trico Vision B comes with a high performance software (Video View Light) with which you can capture and save images in different formats, open and compare multiple images on the screen, zoom and take linear measurements.
The TRICO VISION "A" analogic TV system
(code TRI OVT 000059)
Video head for Trico Vision "A"
code SPT OVT 000690
Switching alimentation set (input: 100-240V - output: 12V) with cables and connectors for the connection to a monitor / TV.
code SPT OVT 000605
Neutral crystal
code SPT PEA 000076
The TRICO VISION "B" digital USB system
(code TRI OVT 000689)
Video head for Trico Vision "B" with 1.3Mpx USB camera
code SPT OVT 000691
Video View Light software for the vision, acquiring, comparing and archive of images.
code VVL 10394
Neutral crystal
code SPT PEA 000076
USB MICROCAMERA
• Image sensor: 1/4" N-MOS
• 1.3 Mega pixels
• Resolutions:1 280x960 (SXGA), 640x480 (VGA)
• Automatic white balance
• USB 2.0 interface
• Operation temperature: 0°C - 40°C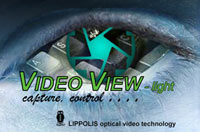 System requirements for proper software operation:
Operative system:
Windows 10 Pro (32 or 64 bit)
CPU:
Intel Core iX or equivalent
RAM memory:
4 Gb (recommended 8 Gb)
Video card:
1 GB
Disk space:
100 MB
Input ports:
1 USB 2.0 for video input
1 USB 2.0 for the protection key
ACCESSORIES
USB Footswitch
To use to take picture when your hands are busy or the PC is not near the workplace
code SPT FSW 000668
CAMBIA_4
Area Utile
(mm)
Versione TV
Versione Digital
Versione HI-TECH
250x250
VA-EX.TV-2525
€ 3.930,00
VA-EX.DIGIT-2525
€ 4.930,00
VA-EX.H-TEC-2525
€ 6.330,00
Prezzi IVA esclusa - L'offerta è intesa senza monitor e PC.