CAPILLAROSCOPE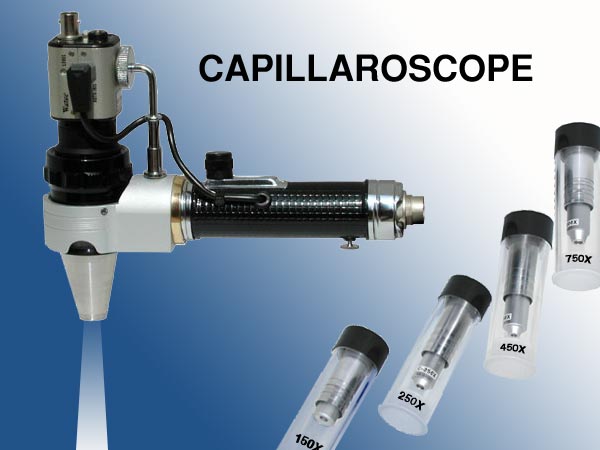 Capillaroscopy is a diagnostic technique for the study of microcirculation. It is of great support in many medical disciplines: diagnoses are immediate, reliable and non-invasive.
Our video systems follow the latest technologies to design instruments that combine the practicality of use and the visual quality of its optics.
Our Capillaroscope finds application in:
Dermatology (dermatitis and dermatosis, skin neoplasms, psoriasis)
Rheumatology (diabetic, atherosclerotic, rheumatic, senile microangiopathy)
Angiology (phlebitis, thrombophlebitis, phlebostatic ulcers, chronic failure of the lower limbs)
Vascular surgery (evaluation of tissue trophism, monitoring of revascularization of certain areas after bypass surgery)
Aesthetic surgery (monitoring of vascularization of adipose tissues, liposuction, topical treatments of skin dystrophies, monitoring of laser treatments, ultrasound, electrolipolysis, monitoring of the rooting of transplants)
The accompanying software, Video View Basic, is equipped with many functions capable of satisfying the most advanced needs. Our laboratories are able to evaluate requests for customizations and make any changes available in a short time. A database, Global Medical Data, allows a very detailed patient file to be managed quickly and easily.
Correct handling of the Capillaroscope
The Capillaroscope can be used as a Video Micro Check (VMC) in the field of dermatology and trichology simply by using the appropriate optics.
It is equipped with a special additional light source and a set of dedicated objectives with magnetic coupling that make it suitable for the accurate examination of superficial capillaries.
The funnel-shaped conformation (made of stainless steel) of the terminal part that adheres to the skin lends itself very well to inspections between the fingers. A special glass placed at the base of the funnel prevents improper particles from getting inside the device, thus affecting the quality of the images and the life of the optics.
The method consists in placing and slightly compressing the illuminating optical part on the skin surface where the capillary vessels are most visible (such as near the nail root).
On the skin surface to be examined it is advisable to apply a thin layer of inert liquid (immersion oil or cedar oil), which allows a better transparency of the skin due to the reduction of the refractive index existing between glass, air and skin; the captured images will be of good quality allowing a reliable diagnosis while using a non-invasive method.
The capture of images can be done directly through software by pressing the foot pedal.
KIT CONTENTS
(codice CAP 10482)
| | |
| --- | --- |
| Parts | Code |
| Capillaroscope | SPT OVT 000559 |
| 250X Lens | CMS-250 |
| Cedar oil (13.5 ml) | SPT CED 000685 |
| Video View Basic and Global Medical Data software for image acquisition, measurement and comparison | VBG 10439 |
| Video Power Cable | SPT OVT 000007 |
| Footswitch for image capture | SPT OVT 000608 |
| Stand for Capillaroscope | SPT OVT 000664 |
APPLICATION EXAMPLES
150 magnifications
Normal view
Customized with Giotto
250 magnifications
Normal view
Customized with Giotto
450 magnifications
Normal view
Customized with Giotto
750 magnifications
Normal view
Customized with Giotto
OBJECTIVES WITH MAGNETIC COUPLING
FOR CAPILLAROSCOPY AND DERMATOLOGY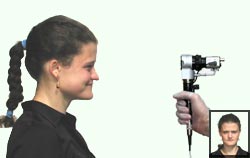 The Capillaroscope can be used with low magnification objectives (wide field of view - dermatology) and with high magnification objectives (for capillaroscopy).
The change of the objectives is very simple and fast because they are equipped with magnetic connection, therefore it will be enough a light downward force to remove and replace them.
While the objectives for dermatology have a wider base of support, the objectives for capillaroscopy are designed to be used on the restricted epidermal surfaces (eg. between two fingers); these ones, for be used, shall be coupled to the light conveyor that also has the function of support base.
All the objectives are protected at the base by a special protective glass allowing the use for contact of several types of oils used in dermatology and capillaroscopy (immersion oil or oil of cedar).
Note that using the right type of objective is matter of personal experience, however it's good to know that high magnification objectives (eg. 450X-750X) should be used with steady hand and exerting slow steady pressure with the device on the surface to inspect in order to avoid focusing in continuation with the metal ring of the capillaroscope.
If you want to acquire the face of your patient and save it in a database, you can use the objective VMC-8.3. By placing vertically the capillaroscope in one hand to about 50 cm from your subject's face (adequately illuminated) and focusing with the metal ring, the capture of the image can be done by pressing the button on the handle of the device or through a pedal connected on the console of the suitcase.
Objective code
Magnification

(referring to a 14" monitor)
Field of view


◆ VMC - 8.3
8.3X
33 x 25 mm
◆ VMC - 15
15X
16 x 12.5 mm
◆ VMC - 20
20X
14 x 11 mm
◆ VMC - 35
35X
8 x 6 mm
◆ VMC - 50
50X
5.5 x 4.3 mm
◆ VMC - 75
75X
4 x 3 mm
◆ VMC - 90
90X
3 x 2.3 mm
◇ CMS - 150
150X
1.8 x 1.4 mm
◆ VMC - 200
200X
1.2 x 0.9 mm
◇ CMS - 250
250X
1.1 x 0.83 mm
◇ CMS - 450
450X
0.6 x 0.45 mm
◇ CMS - 750
750X
0.36 x 0.27 mm
◆ Objectives for dermatology
◇ Objectives for capillaroscopy
| | |
| --- | --- |
| | |
| A dermatology lens next to the video head of the capillaroscope | Lens insertion |
| | |
| --- | --- |
| | |
| Insertion of the capillaroscopy lens | Inserting the illuminator with the light guide |
CARRYING CASE VMC
With "Power carrying case" it is possible to connect your laptop and be operative in less than 3 minutes.
External dimensions:
380 x 266 x 150 mm

Weight:
5.5 Kg
TROLLEY CARRYING CASE VMC
It's now available a practical and robust case in printed aluminium, which can keep the full set which composes the Capillaroscope. Very compact, equipped with a retractable trolley, easy to carry, the Carrying Case Station VMC has been studied to be operant in less than 2 minutes.
The inside part of the case has been optimized to contain, besides a Capillaroscope set also a laptop and various documentations.
SUITCASES (notebook not included)
Trolley Carrying Case (maximum fit for a standard 17" notebook)
Size: 530 x 410 x 260 mm

Weight (without notebook): 6.3 Kg
code: VAL AMA 000726
Carrying Case
Size: 315 x 165 x 170 mm

Weight (without notebook): 4 Kg
code: VAL AMA 000725