TV MACRO ZOOM LENS YXP3000V
Macro zoom objective has been studied to be applied to 1/2" and 1/3" CCD, with the possibility of variable focal at continuous scale for magnification between 0.8X (= scale 1:1.25) and 4X (= 4:1), with a working distance of about 98 mm ± 4 mm.
To enlarge the range of magnifications, four converters are available: 0.7, 0.5, 0.4 and 0.3. These converters allow to have: 0.56X ... 2.8X, 0.4X ... 2X, 0.32X ... 1.2X, 0.24X ... 1.2X.
This lens can be mounted on a practical stand; the illumination can be of two types: ring and axial illumination with cold light, with optic fiber.
To inspect narrow cavity, it is advisable to use axial illumination or incident light with reflecting substage mirror for the projection, parallel to the axis, of the light; this eliminate completely eventual shadows and allows a perfect inspection.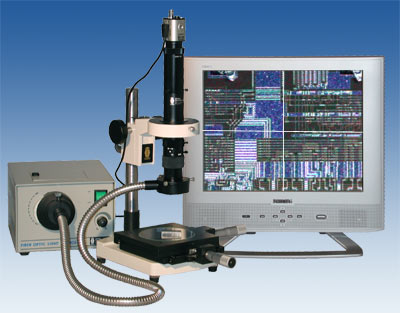 380,000 effective image pixel CCD can be covered thanks to its high resolution.
Zoom function allows an high versatility in various kinds of inspection.
MAIN FEATURES OF TV MACRO ZOOM LENSES
Zoom lens allow continuous magnification. (e.g. 40X ~ 200X by combination of 1/2 inch CCD camera and 14" monitor).
Very long working distance (100 mm) allows an easy handling of the objects.
Both optic fiber and axial illumination are available.
SYSTEM APPLICATIONS
Surfaces inspection of printed circuit board, electric circuits, LCD, etc.
Inspection in IC production process.
Surface inspection of electric components, precision parts.
Quality check, assembly check, process check.
OPTIONAL ACCESSORIES
Accessories lens (0.3X, 0.4X, 0.5X, 0.7X)
Standard stand
Stand with longer support
Optic fiber illumination
Axial illumination
XY micrometrical table (6.5 mm)
XY micrometrical table (12.5 mm)
| | | | | |
| --- | --- | --- | --- | --- |
| Magnification (reproduction scale) on CCD | 0.8X (1:1.25) | 1X (1:1) | 2X (2:1) | 4X (4:1) |
| Max. diaphragm aperture | 6.6 | 6 | 5.2 | 6 |
| Resolution with reference to the monitor | 500 TV lines | 500 TV lines | 500 TV lines | 500 TV lines |
| Resolution with reference to the subject | 22 µm | 17 µm | 8 µm | 4 µm |
Mag.
0.8X
Field
of view
(mm)
Mag.
1X
Field
of view
(mm)
Mag.
2X
Field
of view
(mm)
Mag.
4X
Field
of view
(mm)
Magnification on 14" monitor with 1/2" CCD
about
36X
8.2 x 6.1
about
45X
6.4 x 4.8
about
90X
3.2 x 2.4
about
180X
1.6 x 1.2
Magnification on 14" monitor with 1/3" CCD
about
48X
6.2 x 4.6
about
60X
4.8 x 3.6
about
120X
2.4 x 1.8
about
240X
1.2 x 0.9
Magnification on 14" monitor with 1/3" CCD but with 0.7X converter
about
34X
8 x 5.9
about
42X
3.3 x 2.5
about
84X
1.7 x 1.2
about
168X
0.8 x 0.6
Magnification on 14" monitor with 1/3" CCD but with 0.5X converter
about
24X
9.3 x 6.9
about
30X
2.4 x 1.8
about
60X
1.2 x 0.9
about
120X
0.6 x 0.4
Magnification on 14" monitor with 1/3" CCD but with 0.4X converter
about
19X
9.9 x 7.3
about
24X
1.9 x 1.4
about
48X
0.9 x 0.7
about
96X
0.5 x 0.3
Magnification on 14" monitor with 1/3" CCD but with 0.3X converter
about
14X
10.5 x 7.8
about
18X
1.4 x 1.0
about
36X
0.7 x 0.5
about
72X
0.3 x 0.27