2034 V-ROLL-CX Wi-Fi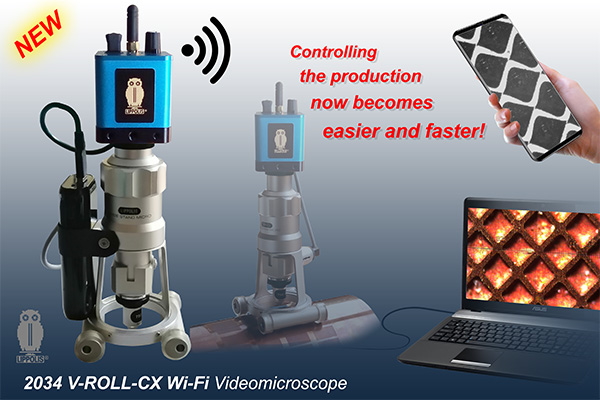 This new portable video microscope, with professional features, is able to facilitate and speed up the control of production in various sectors.
Its structure is completely made of aluminum, very compact and easy to handle, does not need to be connected to the power supply because it is equipped with a powerful rechargeable lithium battery.
Its design originates from the need to be able to quickly inspect flat or curved surfaces being processed without the use of PC / Laptop with cables, extensions, etc..
For smartphones the connection is wireless (or with OTG cable, if your cell phone allows it), while for PCs a USB connection is used (but wireless connection is also possible).
The video microscope is so light that it can be carried, positioned and focused with one hand, checking the transmitted image directly on your mobile phone by saving frames or movies. The images can be measured on a remote PC equipped with our Video View software.
The lenses, equipped with our magnetic mount system, are interchangeable. Those available for use with coaxial light are 7, from 200X to 2350X (field of view: 1.5 x 0.84 to 0.11 x 0.06 mm).
The coaxial light can be easily disconnected; this allows the occasional use of a series of objectives with low magnification and greater field of view than those for coaxial light (from 25X to 100X, field of view from 12 x 6.7 to 3.1 x 1.73 mm).
For the latter objectives, the illumination can be done by an external light source (angular or grazing) also with a led illuminating pen (code SPT PEN 000585), ideal for non-specular surfaces such as molds, rubber matrices, etc.
SPECIFICATIONS
5Mpx camera
Resolution and Frames per Second
MJPG Format (WiFi):
640x480 - 30
800x600 - 30
1024x768 - 30
1600x1200 - 25
1920x1080 - 20
2592x1944 - 7
YUY2 Format (USB):
640x480 - 30
800x600 - 25
1024x768 - 15
1600x1200 - 5
1920x1080 - 2
2592x1944 - 2
Pixel Size
2.2 µm x 2.2 µm
WiFi Range
10 meters
Power Bank
Power
5200 mAh
Duration
6 hours
Recharge
5 hours
LENSES
| | | |
| --- | --- | --- |
| Mag. | Field of view (mm) | Code |
| 200X | 1.8 x 1.3 | 0200-CLPL 34-540M |
| 320X | 1.1 x 0.8 | 0320-CLPL 34-540M |
| 475X | 0.75 x 0.55 | 0475-CLPL 34-540M |
| 750X | 0.42 x 0.31 | 0750-CLPL 34-540M |
| 1100X | 0.30 x 0.22 | 1100-CLPL 34-540M |
| 1500X | 0.21 x 0.17 | 1500-CLPL 34-540M |
| 2350X | 0.13 x 0.11 | 2350-CLPL 34-540M |