GLOBAL MEDICAL DATA
Global Medical Data is a multiuser database that can manage a very detailed patient card index in a easy and fast way.
Every doctor will have its own dedicated database (password protected) that allows patients to have an archive, which combine images, comments and diagnosis with its tools for the management of medical records.
The databases could be exported and to allow the doctor to work on another computer with Global Medical Data installed.
From the "Identifying patient" card is possible to access to cards showing the various pathology evolution with images, comments and comparisons.
Reports print, with two or four images combination, is directly made on the patient card.
2 versions of Global Medical Data are available: the first one is integrated in acquisition and measurement software Video View Basic, the second one that works separately for manage in full autonomy the database on any computer.
Global Medical Data is operative in Italian and English languages.
PATIENT LIST
In the main window of the program will be visualized all patients in the database. Clicking on each column of Patient List it will be possible ordinate it for Surname, Name, Birthday, City, etc., depending on selection.
IDENTIFYING PATIENT
In the window Identifying Patient it is possible to modify the informations of a patient already present in the database or insert new patient and enter in other functions of the program.
FIND PATIENT
From this screen you can search for patients by typing a name in the desired field and clicking Search.
ANALYSIS
Entering in the Analysis window it is possible to add a new analysis clicking on New Analysis or visualize an already inserted.
For each analysis, it will be possible to insert the name of Pathology, Date of visit, some Notes and captured Images.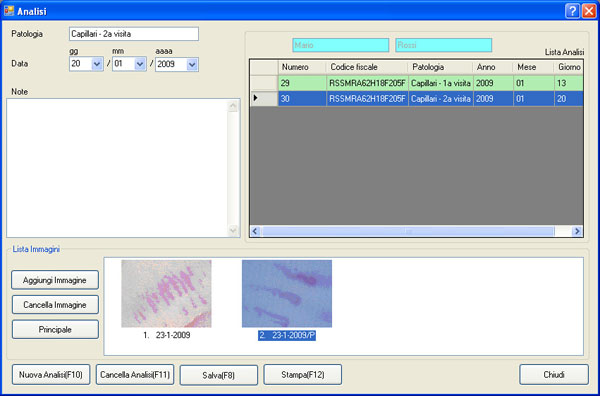 PATHOLOGY EVOLUTION
From this window it is possible to effect a progressive comparison among principal images of a single analysis.
In the Analysis list will be listed all the analysis of the selected patient.
Clicking twice on an analysis, in the squares will be appear the main image of the selected analysis and the main image of the following analysis.
IMAGE COMPARATION
With this window it is possible to visualize and print the comparing of 2 or 4 selected images among the analysis of a single patient.
PRINT REPORT
The Text to print will be visualized, where all the data of the patient and the analysis will be shown and then printed.