PEAK ZOOM LUPE 816 / 1020
The Zoom Lupe 816 is an epochal product designed to permit the step less change of magnification for zooming operation. Composed by 8 lenses in 6 groups for zooming from 8X to 16X, the optical system of this loupe keeps sufficient brightness in each stage of magnification with the least optical aberration.
The black body, finished with aluminium precision machining similar to camera lenses, allows smooth zooming-in and zooming-out. The click stop helps selection of desired magnification from 8X, 10X, 12X, 14X and 16X shown in a small window.
Before starting observation, move the adjust ring at the bottom of the lens body to find the best magnification according to the purpose of inspection. After this selection is completed, finally regulate the adjust ring around the eyepiece so that the mounted scale will be visible clearly. The zooming mechanism changes magnification to allow for continuous observation.
Peak Zoom Lupe 1020 (of recent construction) is similar to the zoom 816, but it has a magnification of 10X, 15X and 20X.
SPECIFICATIONS
Code
2044
2066
Magnification
from 8X to 16X
from 10X to 20X
Field of view
from ø 20 to ø 10 mm
from ø 13 to ø 7 mm
Scale length
16 mm
12 mm
Scale division
0.1 mm / 0.005"
N. of divisions
160 in mm, 60 in inch
120 in mm, 50 in inch
Diopter adjust ring
from +2.5D to -5D
from +5D to -3.5D
Size (mm)
ø 45 x 65 mm
ø 42 x 52 mm
Weight
149 g
95 g
PEAK LIGHT HOLDER
HIGH INTENSITY LIGHT HOLDER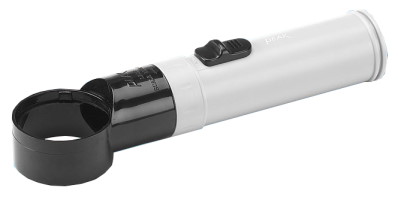 An illuminating device to supply the right amount of light on the item to examine. It will make a clear examination with unnecessary light cut off and also it will help smooth focusing and zooming operation by holding the illuminator in hand. It complements the Peak Zoom Lupe 1020 and the Zoom 816.
The 2044-HX model has high intensity LED lighting (6000K). It is powered by two long-life 3.6V lithium (AA) batteries.
SPECIFICATIONS
Code
2044-LH
2044-HX
Size
ø 47 x 35 x 185 mm
Weight
65 g
Batteries
2 x UM-2 (1.5V)
2 x Li-AA (3.6V)
The kit that includes the zoom lens and the LH illuminator is named 2044-SET and 2066-SET, with the HX illuminator is named 2044-SETHX and 2066-SETHX. The lens specifications are the same, only size and weight change:
Code
2044-SET
2044-SETHX
2066-SET
2066-SETHX
Size (mm)
ø 45 x 65 x 185 mm
ø 42 x 52 x 185 mm
Weight
214 g
160 g
Zoom lupe 2044 / 2066 completes of a 30° illuminating system with extra high intensity led penlight (500mA / 6000K) and luminous intensity regulation, portable battery pack rechargeable.
On request it's possible to include colored filters for the accentuation of particular colors.