GIFT IDEAS
It is well known that a gift is a tangible act with which people tend to reciprocate a gesture of gratitude, appreciation and affection.
For this reason a gift, also the smallest one, to be appreciated would be useful, lasting and unique.
An extension lens will be always an indispensable object in own familiar manage or on own work.
We know that the quality objects, and in particular way a lens, with frames in precious metal or a pocket microscope, don't loss their value in the years, but in many cases they become rare and much sough-after objects.
And then, what better satisfaction it is possible to obtain when we know that our gift has been object of amazement and appreciations, and perhaps also a little envy from the friends and person acquaintances to whom we have made the gift?
The optical objects here represented are much particular and also the people, not very expert in the sector, will appreciate soon their effective value and will remember every time that they will use.
---
PEAK HAND LUPE 3X

The lens recently designed for this version is covered with multicoating, which is not given to the magnifying lens usually. The latest full-metal process is applied to the aluminium barrel.
The Peak Hand Lupe 3X is ideal for observation and inspection. Please keep it always within your reach on the table and even at outdoors.
The hand-sewn leather case matches high quality of this excellent lupe.
SPECIFICATIONS
| | |
| --- | --- |
| Code | 1997 |
| Magnification | 3X |
| Lens | ø 50 mm |
| Size | ø 60 x 20 mm |
| Weight | 80 g |
---
PEAK ACHROMA LUPE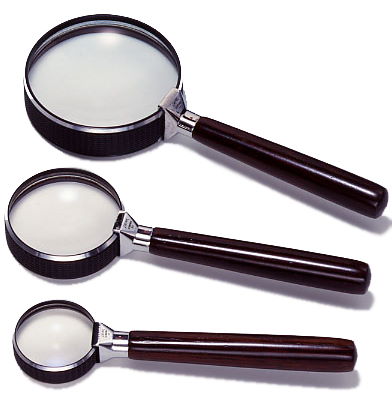 The magnifying glass introduced here appears to resemble, in its outside appearance, the classic magnifying glass used by the famous detective Sherlock Holmes at the end of the last century. But Peak Achroma Lupe is greatly different in its function and can give you more accurate information which the piercing eyes of the great detective could not detect.
The reason is that the Peak Achroma Lupe employs a newly-designed achromatic lens which is composed of two optical-glass lenses cemented together.
The image seen through this lens is free of colour run and gives sharp contours so that no vague lines will be found throughout the entire image field.
At the base of the lens frame of this Achroma Lupe, you will find a red point. Use the lens with the face having this red point upwards.
The solid lens frame and the wooden handle made of rose wood which develops the more beautiful sheen the more you use it will make Peak Achroma Lupe worthy of your treasured use. It will also become your good assistant in your research and inspection work and your good companion in your hobbies such as works of art, horticulture and handicraft.
SPECIFICATIONS
Code
2022-35
2022-55
2022-75
Lens
ø 37 mm
ø 54 mm
ø 75 mm
Magnification
4X
2X
1.3X
Surface treatment
Both faces purple-coated
Size (mm)
39 x 155 x 15
56 x 175 x 20
77 x 195 x 25
Weight
67 g
117 g
245 g
---
PEAK POCKET MICROSCOPE EIM
This is the new type of erected image model with a scale built-in. You have obtained an inverted image by pocket microscopes so far supplied. But this new product with a built-in roof prism provides you an erected image exact to the life. (ElM consist of the following capital letters: Erected Image with Measure).
The 2056 model is the same as the 2050 model, but without a measurement scale.
SPECIFICATIONS
Code
2050-25
2056
2050-50
2056
2050-75
2050-100
Magnification
25X
50X
75X
100X
Field of view
ø 3.50 mm
ø 1.70 mm
ø 1.10 mm
ø 0.86 mm
Min. scale div.
0.05 mm
-
0.02 mm
-
0.01 mm
0.005 mm
Measuring range
3.0 mm
-
1.6 mm
-
1.0 mm
0.8 mm
Size
ø 20.7 x 111 mm
Weight
25 g
26 g
28 g
28 g
---
PEAK ACHROMA STAND LUPE
Its achromatic lenses consisting of two kinds of optical glass pasted together that constitutes a characteristic feature of the Peak Achroma Stand Lupe.
The image seen through this lens has no blur of color. The outline is clear and there is no vague viewing in entire visual field.
By adopting a flexible tube and stable metal base, efficient observation can be made by the free use of both hands.
The achromatic lenses prove to be very useful and ideal for the check and inspection of fine arts, photographs and industrial arts.
You will find a red dot at the base of lens frame. Use the Lupe with the face having this dot upwards. The last two figures of this item number indicate the diameter of each lens.
SPECIFICATIONS
Code
2057-35
2057-55
2057-75
Effective aperture
ø 37 mm
ø 54 mm
ø 75 mm
Magnification
4X
2X
1.3X
Surface treatment
Both faces purple-coated
Lens
ø 39 mm
ø 56 mm
ø 75 mm
Arm
280 mm
Base
ø 135 mm
Weight
1280 g
1330 g
1460 g
---
PEAK SILVER LUPE SERIES
2058
Aster Lupe
2059
Plain Lupe
2060
Desk Lupe
We have added three kinds of epock-making silver lupes to Peak Lupe series so far supplied.
It is well known in Europe from several hundred years ago that the silver having purity of 92.5% is stable chemically and has a hardness best for use. We have used the sterling silver 925 to supply these splendid lupes.
Using Aster Lupe and Plain Lupe:
Keep the lens as close as possible to your eye. Then keep the object you observe away from the lenses and find where it is in focus.
Using Desk Lupe:
Place the Desk Lupe above the object you observe and find where it is in focus by up-down motion of your eye. Or use the Desk Lupe just like you use the Aster Lupe and Plain Lupe.
SPECIFICATIONS
Code
2058
2059
2060
Effective aperture
ø 62.3 mm
ø 34.5 mm
ø 34.5 mm
Magnification
1.6X
3.1X
3.1X
Lens (mm)
ø 65
ø 43.5
47.3 x 45.3 x 35
Handle (mm)
88.6 x 9.8
77.0 x 2.7
Weight
90 g
30 g
40 g
---
MAGNIFIER DUET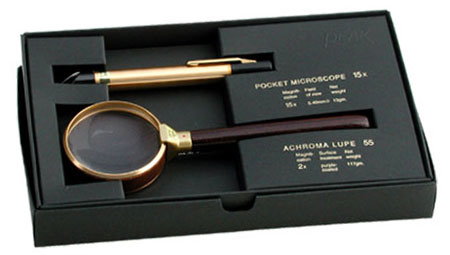 In our life not little times happened we wish to thank someone with a small present not so much binding, but of good quality, original and overall useful in time.
Well, the pocket microscope 15x and the table achromatic magnifying hand lens is the duet that all are pleased to receive. The lens with diameter 55mm is of achromatic type, double lens (without chromatic aberrations and the lines that are observed through it are perfectly straight and clear from centred to the edges), the handle is obtained by precious rose wood.
The pocket microscope 15x (field of view 19mm) is a precious quality object, like a pen, it can be putted easily in the pocket and when it will be extract to inspect objects, will satisfy the observer and will create non little curiosity in the presents. The duet is supplied in a present box.
SPECIFICATIONS
| | | | | |
| --- | --- | --- | --- | --- |
| Code | 2001-15 | | Code | 2022-35 |
| Magnification | 15X | | Magnification | 2X |
| Field of view | ø 5.40 mm | | Lens | ø 54 mm |
| Size (mm) | ø 12.4 x 127 | | Size (mm) | 56 x 175 x 20 |
| Weight | 13 g | | Weight | 117 g |