Brinell Indents Reader 2013-20X/40X
The 2013 series includes two optical microscopes with magnetic base equipped with illumination for measuring Brinell indents.
The 20X model allows measuring indents up to 8 mm in diameter with an accuracy of 0.01 mm, the 40X model up to 3 mm with an accuracy of 0.005 mm.
The fixed optics and magnetic base allow very fast reading operation: just place the microscope on the sample and operate on the nonius.
The body is made of stainless steel to ensure maximum robustness even special working environments.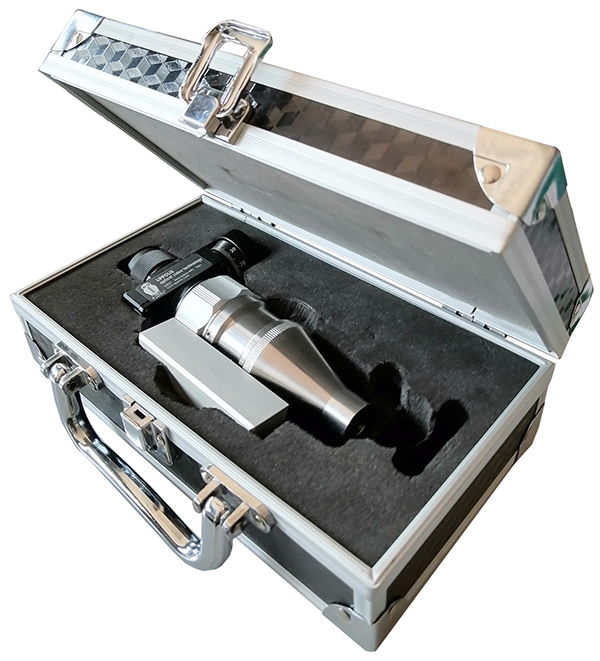 The microscope is stored in a practical carrying case
Size: 225 x 145 x 80 mm
SPECIFICATIONS
Code
2013-20
2013-40
Magnification
20X
40X
Field of view
9 mm
5 mm
Measuring range
8 mm
3 mm
Min. scale division
1 mm
0.5 mm
Division of the knob
0.01 mm
0.005 mm
Power supply
1 AA lithium battery 3.6V-2.7 Ah
Size
90 x 50 x 160 mm
90 x 50 x 190 mm
Net weight
355 g
520 g
EYEPIECE
1)

Measuring scale in the eyepiece:

the measurement range varies by model.
2)

Horizontal reference line:

fixed, used to align the object under examination with the measuring scale (without moving the microscope) by turning the rotating base.
3)

Vertical moving axis:

is moved by the knob with nonius (the excursion can exceed the field of view laterally).
4)

Measuring divisions:

each of its divisions corresponds to the displacement of 10 microns (in model 2013-20), or 5 microns (in model 2013-40), of the Y-axis on the X-axis in the eyepiece.
5)

Knurled knob:

allows an easy control of the measurement.
6)

Eyepiece:

turn the eyepiece to focus on the graduated scale inside.
PRICES
2013-20 Microscope
code 2013-20 ....................... € 450,00
2013-40 Microscope
code 2013-40 ....................... € 675,00