PORTABLE HARDNESS TESTER EPX5500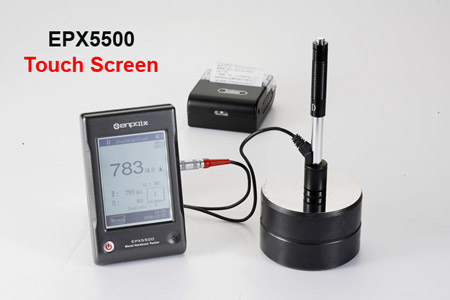 The EPX5500 is an impact hardness tester similar to model EPX300, but with a touch screen display.
Featuring by a low power consumption, it has a 3.7V rechargeable lithium battery and charger.
Many features are customizable from the menu, from which the user can also automatically perform the calibration using the test block.
It has the ability to store up to 800 values, and easily recall them by using the touch screen.
SPECIFICATIONS
Accuracy
± 6 HL
Resolution
1HL, 1HV, 1HB, 0.1HRC, 0.1HRB, 1HSD, 1MPa
Scales
HL, HRC, HRB, HB, HV, HSD, MPa
Display
Large LCD with contrast regulation, backlight, touch screen, menu in English, Italian, Spanish, French, German, Russian, Chinese
Display functions
Impact direction, battery consumption, hardness scale, mean value, material, test times, date
Measuring direction
Any
Output
Wireless IR and USB
Test piece
Min. weight: 5 kg
Min. thickness: 3 mm
Min. thickness of the surface layer: 0.8 mm
Min. radius of curved surface: 11 mm
Measured materials
Steel & cast steel, alloy tool steel, stainless steel, gray cast iron, ductile iron, cast aluminum alloys, brass, bronze, copper, forging steel
Power
Rechargeable lithium-ion battery (3.7V)
Operating temperature
0 ~ +50°C
Storage temperature
-10 ~ +60C
Humidity
90% max
Size
135 x 83 x 24 mm (display unit)
Weight
Approx. 228 g (display unit)
Certification
CE
RANGE
Material
HL
HV
HB
HRC
HRB
HSD
Tensile
strength
Steel & cast steel
300-910
81-955
81-654
20.0-68.4
38.4-99.5
32.5-99.5
375-2639
Tool steel
300-640
80-898
140-651
20.4-67.1
59.6-99.6
26.4-99.5
375-2639
Stainless steel
300-800
85-802
85-655
19.6-62.4
46.5-101.7
26.4-99.5
740-1725
Gray cast iron
360-660
140-334
Ductile iron
400-660
140-387
Aluminum alloy
170-560
19-164
23.8-84.6
Brass
200-550
40-173
13.5-95.3
Bronze
300-700
60-290
Copper
200-690
45-315
Forging steel
83-976
142-651
19.8-68.5
59.6-99.6
26.4-99.5
KIT CONTENTS
Display unit
Impact device type D
(for most applications on pieces with a thickness greater than 3mm, with cable connection and support ring standard)
Small support ring
Cleaning brush
Test block
Charger
Mini thermal printer wireless (IR)
User's manual
Carrying case
"D" TYPE IMPACT DEVICE
The ENPAIX durometers are fitted with universal impact device D.
The impact device allows high precision measurements at any angle.
It's used to measure all the materials with thickness not less than 3mm and weight not less than 5kg. The pieces that don't have these features can also be measured using appropriate actions (e.g.: by fixing the piece on a granite surface).
Impact energy
11 Nmm
Mass of the impact body
5.5 g
Test tip diameter
3 mm
Test tip material
Tungsten carbide
Test tip hardness
1600 HV
Impact device length
147 mm
Impact device diameter
20 mm
Impact device weight
75 g
Max. hardness of sample
940 HV
Min. weight of the sample:
of compact shape
5 kg
on solid support
2 kg
coupled on plate
0.05 kg
Min. thickness of sample:
uncoupled
25 mm
coupled
3 mm
surface layer thickness
0.8 mm
Indentation size on test surface with 300HV, 30HRC:
diameter
0.54 mm
depth
24 µm
Indentation size on test surface with 600HV, 55HRC:
diameter
0.45 mm
depth
17 µm
Indentation size on test surface with 800HV, 63HRC:
diameter
0.35 mm
depth
10 µm
---
MINI THERMAL PRINTER WIRELESS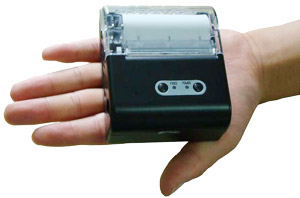 With this mini thermal printer in equipment, you can print the report with test data, measured values, lot identification and the mean value.
The hardness tester communicates with the printer via wireless quickly and easily for immediate measurements certification.
| | |
| --- | --- |
| Print method | Thermal line printing |
| Print font | ASCII (24x12) - GBK (24x24) |
| Print speed (max) | 50 mm/s |
| Interface | IrDA or Bluetooth |
| Paper dimensions | 58 mm (2") |
| Paper thickness | 0.06 ~ 0.07 mm |
| Power | 7.2V Ni-MH battery |
| Power consumption | 0.4 A |
| Commands | ESC/POS compatible |
| Operating temperatures | -10 ~ 50°C |
| Operating humidity | 20 ~ 85% |
| Storage temperatures | -20 ~ 70°C |
| Storage humidity | 5 ~ 95% |
| Accessories | Roll paper, charger |
| Size | 76 x 96 x 36 mm |
| Weight | Approx. 220 g |
SUPPORT RINGS
Code
Support rings for
round specimen
Application
Price
R1015
Outer cylinder measuring
R10 ~ R15
€ 35,00
R14530
Outer cylinder measuring
R14.5 ~ R30
€ 35,00
R2550
Outer cylinder measuring
R25 ~ R50
€ 35,00
R1113
Insider cylinder measuring
R11 ~ R13
€ 35,00
R12517
Insider cylinder measuring
R12.5 ~ R17
€ 35,00
R16530
Insider cylinder measuring
R16.5 ~ R30
€ 35,00
SR1113
Outer spherical measuring
R10 ~ R15
€ 35,00
SR12517
Outer spherical measuring
R14.5 ~ R30
€ 35,00
SR16530
Insider spherical measuring
R11 ~ R13
€ 35,00
SR1015
Insider spherical measuring
R12.5 ~ R17
€ 35,00
SR14530
Insider spherical measuring
R16.5 ~ R30
€ 35,00
RUN
Outer cylinder measuring,
radius adjustable
R10 ~ ∞
€ 35,00
---
STANDARD TEST BLOCK
| | | |
| --- | --- | --- |
| Code | Rockwell hardness value | Price |
| ISHB-HR15T | 87-93 HR15T | € 46,00 |
| ISHB-HR15N | 89-91 HR15N | € 46,00 |
| ISHB-HR30N | 42-50 HR30N | € 46,00 |
| ISHB-HR30T | 70-82 HR30T | € 46,00 |
| ISHB-HR45N | 37-61 HR45N | € 46,00 |
| ISHB-HRB | 85-95 HRB | € 31,00 |
| ISHB-HRC1 | 20-30 HRC | € 31,00 |
| ISHB-HRC2 | 35-55 HRC | € 31,00 |
| ISHB-HRC3 | 60-70 HRC | € 31,00 |
PRICES
Portable Hardness Tester EPX5500
code EPX5500 ....................... (on request)