PEAK ACHROMA LUPE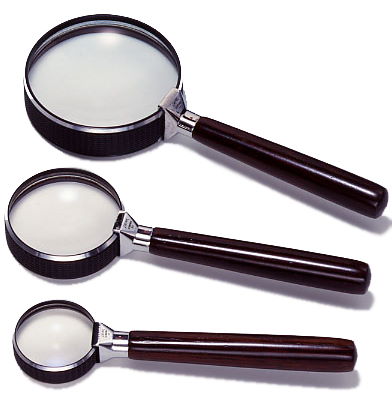 The magnifying glass introduced here appears to resemble, in its outside appearance, the classic magnifying glass used by the famous detective Sherlock Holmes at the end of the last century. But Peak Achroma Lupe is greatly different in its function and can give you more accurate information which the piercing eyes of the great detective could not detect.
The reason is that the Peak Achroma Lupe employs a newly-designed achromatic lens which is composed of two optical-glass lenses cemented together.
The image seen through this lens is free of colour run and gives sharp contours so that no vague lines will be found throughout the entire image field.
At the base of the lens frame of this Achroma Lupe, you will find a red point. Use the lens with the face having this red point upwards.
The solid lens frame and the wooden handle made of rose wood which develops the more beautiful sheen the more you use it will make Peak Achroma Lupe worthy of your treasured use. It will also become your good assistant in your research and inspection work and your good companion in your hobbies such as works of art, horticulture and handicraft.
SPECIFICATIONS
Code
2022-35
2022-55
2022-75
Lens diameter
37 mm
54 mm
75 mm
Magnification
4X
2X
1.3X
Surface treatment
Both faces purple-coated
Size (mm)
39 x 155 x 15
56 x 175 x 20
77 x 195 x 25
Weight
67 g
117 g
245 g